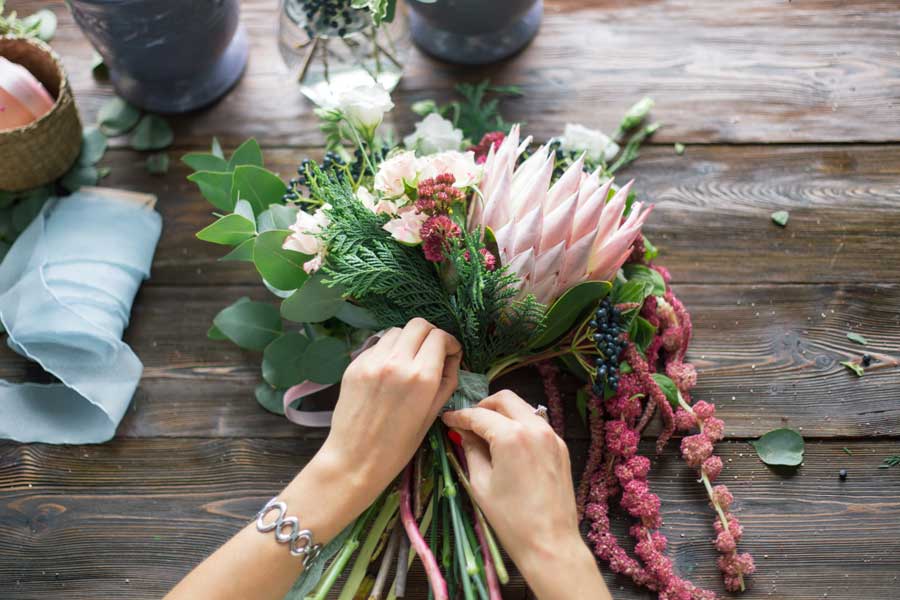 A fresh bouquet of flowers can brighten anyone's day, including your own! Whether you want an arrangement to dress up your table for a dinner party or you simply enjoy having fresh flowers in your house, sourcing your bouquets from a florist can be pricey. If you want to learn the keys to creating your own flower arrangement so that you can skip out on florist fees, follow along.
Select Your Flowers
The first step is the fun part; selecting your flowers. There are several places you can get fresh flowers from. A grocery store, a farmer's market, a florist, or even your own garden! It's nice to go to a market where they have a variety of flowers and greenery to choose from, since this makes it easy to find and color palette and mix and match selections before you bring them home. As a good rule of thumb, a well-balanced arrangement will consist of a statement flower and two varieties of greenery for support. Many people get swept up in the beauty that flowers have and are tempted to create an arrangement simply out of blossoms, but it's actually background greenery that will help your flowers pop. And don't forget to pick up some floral preservatives while you're out. This will significantly increase the lifespan of your arrangement.
Prepare the Stems
Once you've made your selections, it's time to prepare them. Make sure to remove any thorns or leaves from the base of the stems. This produces a more polished look as well as prevents bacteria from being introduced into the water, i.e. making your arrangement last longer. Then, referencing your vessel, trim the stems. (note: a taller vessel is needed for big, heavy blooms.) Cut the stems with a sterilized pair of shears with a diagonal cut. This will assist the stems in drawing up water. Once the stems are prepared, fill your vase with tepid water and a packet of floral preservatives. Then begin placing your florals in the vase. Fiddle around with the placement until you are satisfied with the look. If your stems need more support to stay put, floral frogs, floral foam, and Styrofoam all make great stabilizers.
Extra Considerations
Naturally, you will want your arrangement to remain fresh and bright for as long as possible. Some things that can increase its lifespan are keeping your bouquet away from direct light, keeping it in a cool place, removing dead leaves and flowers as they appear, and replacing the floral food and water every other day.
If you follow these tips, you'll be making impressive floral arrangements in no time. You might even find a new hobby out of it.
At Montano, we aim to create homes that can accommodate all lifestyles. Whether you are enjoying a night of solitude or enjoying an evening dinner with friends, our homes provide the perfect place to do so. Take a look at our available homes today!
By Montano Homes | 4-26-2022